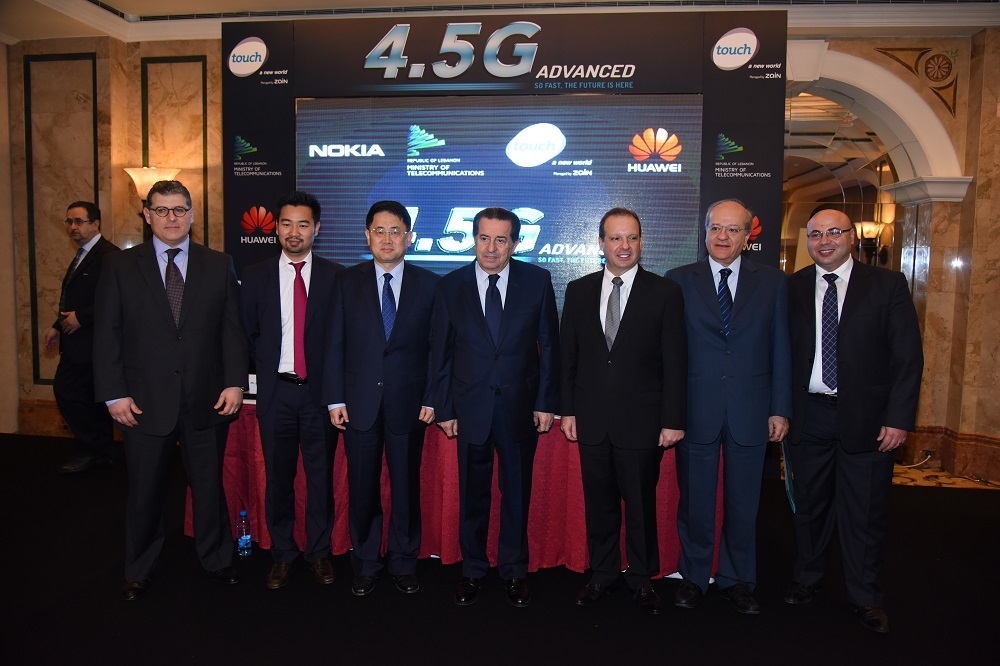 Beirut March 21, 2016: touch, the leading mobile telecommunications and data operator in Lebanon, managed by Zain Group, a leading telecom innovator in eight markets across the Middle East and Africa, and under the patronage of His Excellency Minister of Telecommunications Boutros Harb, hosted a ceremony for the official signing of touch 4.5G Advanced network deployment all over Lebanon, in partnership with Huawei and Nokia. The event took place at the Phoenicia Hotel Beirut, and was attended by the Chinese Ambassador in Lebanon Jiangjiang, influential figures in the telecommunications sector as well as renowned media personnel.

The event celebrated the beginning of a new milestone in the Lebanese Telecommunications sector. Partnering with Nokia and Huawei, touch will be the first to bring the 4.5G Advanced to Lebanon in September 2016, installing 1415 sites to cover 99.8% of the country. Besides the standard dual carrier speed of 300mbits/s nationwide, touch will enable 3 carrier aggregation and 4x4 MIMO antenna technology in hotspots urban areas, which will deliver speed capacity between 450 mbits/s and 600 mbits/s. The deployment process will be fast tracked, focusing primarily on coverage and capacity, ensuring that even the most remote villages in the country can enjoy LTE.

Minister of Telecommunications Boutros Harb began his speech by talking about the importance and the size of the concerned ceremony, which was signed between Nokia, Huawei and touch, a few days after an agreement was signed between Nokia and Ericsson. He praised "the prevailing spirit of cooperation and the exciting challenge it brings, taking Lebanon exactly where it is supposed to be, to the forefront of telecommunications technology and services. Lebanon, which was leading the race in the field of telecommunications in the Arab world, both in terms of mobile and internet, was unfortunately left lagging behind. Today, we are making every effort to make sure that Lebanon takes the lead again, based on our belief that Lebanon and the Lebanese people deserve far more than what they have settled for".

Harb said, "When I first took over the Ministry of telecommunications it was difficult to face the reality that Lebanon was among the Arab countries at the bottom of the list in the field of telecommunications and information technology, and occupied the lowest ranks even on a global scale. It was unfortunate, given the fact that Lebanon was among the first countries in the Middle East to start utilizing mobile phones and the internet. Proceeding from there I accepted the challenge, and it was fated that in light of the situation in Lebanon and the presidential vacuum, the government persisted for a longer period of time than what was actually planned. When I first came to the ministry and met my team and its managers I asked them to start preparing a plan for a hundred days. Once the 100 days passed, we met again and I asked them to come up with another plan but for two years. It is with much regret that I say that I was right and I still do not see any political breakthroughs that will allow us to rebuild the state and work for the long term. This is anchoring Lebanon in its place."

>He added: "In the world of telecommunications stalling is unacceptable, and based on this fact, and despite all the difficult circumstances, I accepted the challenge and started working on a strategy which was the plan for 2020". Harb expressed how proud and grateful he is to the team that worked with him and enabled him to put that plan together. Despite the fact that Lebanon's image was tarnished on both the democratic and cultural levels and was turned into a field where international, regional, local, personal, familial and sectarian interests clash, Lebanon still deserves so much more and we are working towards achieving that necessary change.

Harb said: "As a first step, by the end of September we will have 4.5G Advanced across Lebanon. This project puts Lebanon in the lead, and as the CEO of touch said, will be available for 99.8% of the Lebanese people, which is truly a great thing. I would also like to emphasize, in the presence of "Nokia and Huawei," that the work must be completed by September. I call for touch to accelerate its efforts because there are several tenders that must be completed in parallel to this project, and that the work must continue with the same level of transparency, respect and quality that we have always adopted.


Harb also pointed out that we are surely going to hear criticism, and that whatever we do, there will always be some level of disapproval, but this will not stop us and we will continue to work to ensure our own peace of mind. "It is unfortunate" said Harb, "that the public interest is no longer the most prevalent concern, because it has been replaced by sensitivities and criticism. Yesterday, we discovered a network of illegal Internet and data. We also discovered that this network possibly, if not likely, leaks information and the data of the most important security and constitutional institutions to the Israeli enemy. After discovering this network I expected people to say: "Thank God we managed to dodge a bullet and that we are no longer exposed to the enemy", but instead I heard justifications for the offenders and defendants, and the Ministry of telecommunications was criticized for failing to deliver internet to everyone and raising its prices too high. Others blamed us, claiming that we should have discovered the network a long time ago. The question is: Do we have to defend those who are dealing with Israel to achieve their political goals against another political rival? What a shame. Something is terribly wrong, and it appears that we have a problem of morality in Lebanon. "For that reason, we must develop the telecommunications sector to keep pace with developments around the world and to be able to communicate, learn from other cultures and ultimately succeed. We cannot build our own country if we continue to point guns at one another
He added that despite the difficult circumstances that Lebanon is going through, the telecommunications sector has made outstanding achievements that will lead Lebanon to the forefront alongside other developed countries in the field of technology and mobile telecommunications.
Harb believes that the deployment of 4.5G Advanced technology is an important step towards achieving Vision 2020, stressing the need to complete the work by the end of September, so that all the Lebanese can enjoy 4.5G Advanced by the end of 2016. He also explained that the work is also under way to install a fiber-optic network in Lebanon, and that the achievements in this area will be revealed very soon.

Harb said: "Once this is achieved my conscience will be at peace because despite the difficult and dark times we were able to work to achieve what our country truly deserves."
While commenting on this event, touch Chief Executive Officer Mr. Peter Kaliaropoulos described the 4.5G Advanced, as state-of-the-art technology deployment driven by customer demand for superior, reliable mobile data experience as smart devices are now redefining how consumers and business interact and transact.
He stated: "By the end of 2015, touch internet traffic generated from 1.6 million data customers tripled from 15TB a day to 45TB over the previous year. Mobile internet has become the primary source of connectivity, desktop internet taking the back seat. Mobile data communications is at the core of our lives today and shaping a new world".
Touch CEO's added: "We are also announcing today technology co-operation agreements with both Nokia and Huawei to ensure the touch network is 5G enabled and able to handle commercial traffic when global standards are finalized most likely by end of 2018. Such partnerships with the world's leading network technology companies and Zain Group will allow us to deliver the Ministry's Vision 2020 faster than anticipated."
Touch has gained leadership in data market share with more than 60% (1.6M) of mobile data customers in Lebanon using the touch network. With the launch of the 4.5G Advanced technology, touch anticipates daily volumes of over 350TB before the end of 2020.

Mr. Kaliaropoulos also added: "Investments in such technologies also create new opportunities for start-ups to leverage local talent in Lebanon and export know-how regionally. New opportunities will be created for many entrepreneurial people and professionals in apps development and support, and many small business will benefit from direct investment in new infrastructure and maintenance services".
Huawei Chief Executive Officer of the Levant Region Mr. Li Shi said: "Huawei as a global leading technology vender with its global, regional and local capabilities focusing on the rich user experience has been always contributing and investing to open ROADS to a better connected world.

So Huawei through its state-of-art and advanced 4G technologies, and adopting customer-centric philosophy, is committed to add more in the development of the ICT Market of Lebanon through this historical partnership with Touch, by focusing on providing the richest user experience and consider the user experience as a "service".
Ahmad Othman, Head of Business Zain Group, Nokia, stated: "Increasing usage of smart devices to access voice, video and other data-intensive applications on the go by customers of Touch in Lebanon demands a superior network with high speeds and optimal coverage. Due to Nokia's long-term partnership with Touch, we understand our customer's exact requirements and will build an ultra-fast LTE-A network with our Single RAN Advanced radio platform, carrier aggregation technology, network management system and professional services. This will ensure a world-class mobile broadband experience for Touch customers."
Attachments