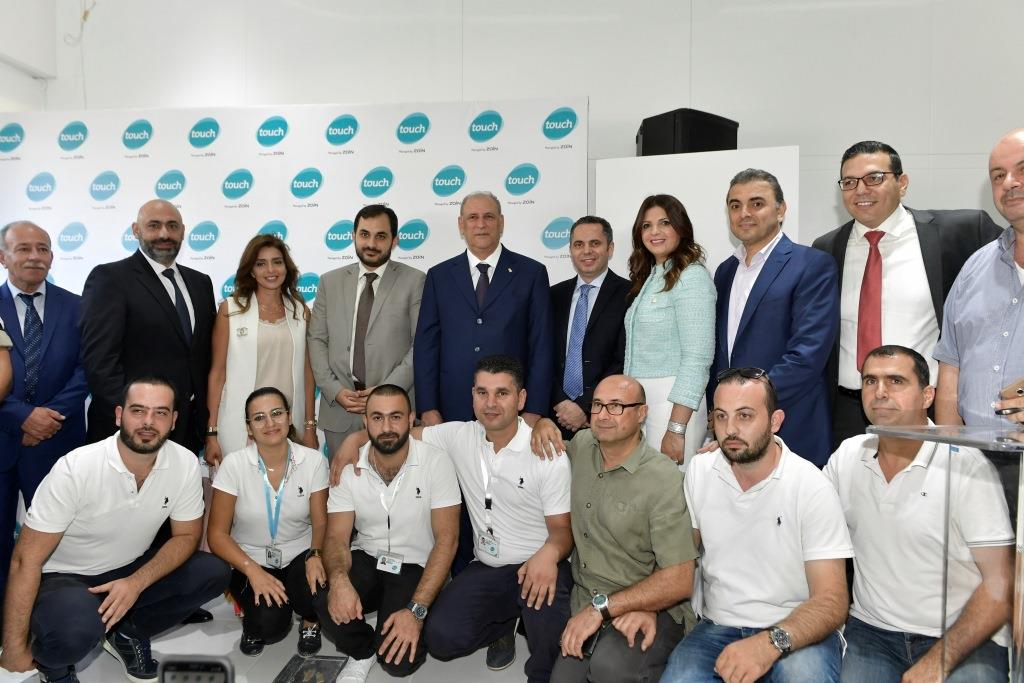 touch inaugurates two new service centers in Bekaa
Beirut - August 20, 2018: touch, the leading mobile telecommunications and data operator in Lebanon, managed by Zain Group, celebrated the launch of two new service centers in El Marj and Kherbet Rouha in the Bekaa region. The new facilities were inaugurated during an event held under the patronage and in the presence of His Excellency Minister of Telecommunications, Jamal Jarrah.
Also present at the unveiling ceremony held on August 14 were touch's Chief Executive Officer, Emre Gurkan, representatives from the Minister of Telecommunications, and those from the Bekaa region, in addition to the media. The centers represent the 11th and 12th service centers managed by touch in Lebanon, which are all helping simplify the lives of customers wherever they may be in the country.
The inauguration took place in Kherbet Rouha where the Minister of Telecommunications, HE Jamal Jarrah stated that the opening of the touch service center in this area is part of touch's constant development that the Rachaya region lacks. He said, "We will be opening more centers and installing cell towers to strengthen network coverage and improve overall internet quality, in parallel to enhancing land lines network by installing modern and sophisticated equipment."
Opening the second service center in El Marj in western Bekaa, Jarrah announced that both the MoT and touch came to an agreement of installing 428 cell towers across many regions with the goal to enhance and ensure network coverage and internet to Lebanon as a whole, to meet the needs of its citizens. Jarrah said, "Worth $200 million, this project will ensure an enhanced and outstanding network coverage to all regions of Lebanon. This investment is at its most rightful time and it is part of the Lebanese state's responsibility to meet the needs of their citizens."
touch CEO Emre Gurkan said, "We are committed to providing our customers with the best customer experience possible as reflected by our customer centric strategy. The latest service centers in Bekaa are a symbol of our ongoing efforts to raise customer satisfaction and forms an integral part of touch's strategy to become the Digital Network Accelerator. We are in the process of equipping all of our service centers with the latest digital tools, among them Smart QMS, digital kiosks, and interactive screens."
touch's service centers in Bekaa are an embodiment of the company's strategy to provide the best customer experience, not just by diversifying its customer care channels, but also by increasing its geographic presence in remote areas of Lebanon that offer convenience in terms of its central locations and staff support, to the availability of a whole range of devices (MiFi, routers, dongles, handsets, etc.) and where customers can complete a wide range of transactions within the location.
What differentiates touch service centers from our other customer touchpoints is rooted in the digital experience customers receive from the moment they enter a facility. touch has plans to equip all its service centers with the latest digital tools, including SMART QMS, which offers features such as customer identification and self-registration; SMART queuing and routing; digital signages; omni-channel customer feedback; and SMART reporting.
The company also plans to introduce digital kiosks equipped with interactive screens, allowing customers to check the latest products and services; browse the internet; and initiate service activations.
Additional innovations that will be featured in service centers include Virtual Data Support, which offers virtual assistance to customers with data/broadband related queries through live interactive video chat. Centers will also feature LED screens for information display.
touch will continue to expand its footprint across the country to provide citizens with faster and more efficient access to the services they require. To further bridge the gap between the company and its customers, touch service centers represent a step towards the goal of complete customer satisfaction.
Attachments